HOTELS CONDOS BUSINESS SCHOOLS
NyLawn's synthetic lawn is ideal for high traffic areas when mud,


dirt and maintenance crew presence is not. This artificial turf is durable, seals in the dirt and won't fade in the sun. No Maintenance means


no fertilizer, no herbicides, no pesticides and no maintenance crew necessary! NyLawn looks natural and provides a soft, safe walking area with our expert installation for your guests, residents and customers.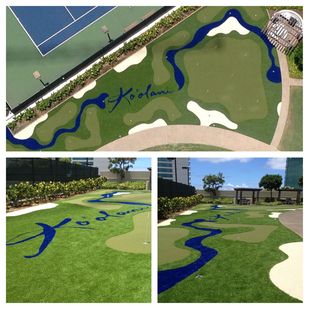 One of Oahu's luxury condominiums featuring a 4000 square foot, 6 "fairway" - 12 hole putting course along with an 800 square foot professional practice putting green. Residents of all levels of play, including non-golfers, love the beauty of green with the designed water and sand features that include the logo in the design.
Before

Koko Marina

Hawaii Kai

Maintaining this small area in the parking lot was costly and hard with alot of car and customer traffic until NyLawn's synthetic lawn was installed!
APB Warehouse
Campbell Industrial Park
Oahu, Hawaii
A well maintained looking common area with no maintenance is what APB Warehouse
in Campbell Industrial Park needed for this 6000 foot common area.
In this dry area of the island that's hard to achieve. NyLawn's commercial synthetic lawn was professionally installed and now it always looks like a well maintained lawn
giving their business front a professional look all the time.
Star the Sea School
Kahala, Hawaii
The playground area was worn, making grass hard to grow and was mosty dirt.
NyLawn's commercial artificial lawn transformed this playground into a clean area
where kids can fall of a soft clean surface withour getting scrapes or dirty.
The synthetic turf was expaned to the entire play area creating a sports filed too.